It was an unexpected, strange and stressful time – the two months of COVID-19 lockdown in Bulgaria changed everything for all the clients and, of course, for us. We had to deal with an unprecedented situation, and we had no time. Some of our clients who relied entirely on their physical locations (like gyms or restaurants with no delivery options) decided to close their operations altogether.
But there were also other ones. They already had online stores complementing their physical stores. That's right – complementing, not a priority. This was the particular case with one of our clients. We had already worked to develop their online presence gradually, and we had achieved some success, but there had been no rush, no priority. Subsequently, the budget was never too big when it came to online advertising. And then COVID-19 came. Our client had to close their three physical stores, and the entire focus shifted to the online store.
It was the only hope to sustain the business during the lockdown. We had to act quickly and concentrate all our efforts on the online store and the ways to increase online sales and revenue as much as possible. Fortunately, our approach succeeded, and in the two months of the biggest COVID-19 crisis we managed to increase the online transactions with more than 273% and the revenue with 352% compared to the year before.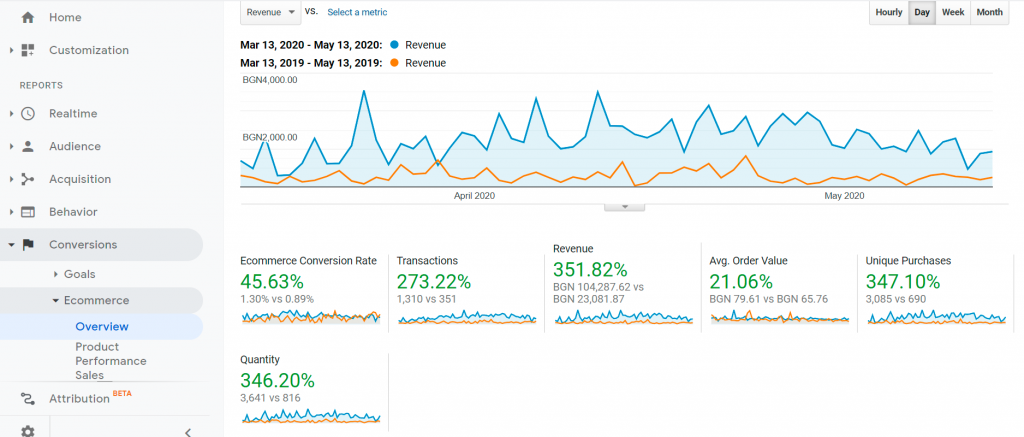 Those results helped our client keep their business operational and not fire anyone from their small team. How did we do it? Here are the key steps we undertook.
1. Communication and transparency with the clients
Since the beginning of the lockdown, we knew we had to be active and transparent in our online communication with the brand's clients. We knew they were there – on Facebook, Instagram, Google, and we just had to reach them with the right tone and the right messages. We had to show that we understand what they are going through and how our products can help them in those difficult times. Of course, it was not an easy task since our client doesn't sell food, medications, or sanitary products purchased in large quantities. But still, we found a way to communicate how our products can be beneficial in people's lives while they are staying home. We also managed to reach the clients who had been shopping only in the brand's physical stores until then and to convince them that online shopping is safe, secure, and convenient.
2. Increased budget for online advertising
We managed to convince our client that we had to increase the budget for online advertising since that was the only operational channel for their business. Of course, it was not a shocking growth since every business at this time acted more than careful, and we understood this. We decided to do a 50% increase and see how it would impact the results and scale further if it was successful. The change affected the budget for Google Ads and Facebook Ads, and fortunately, the outcome was remarkable: with a budget of approx. 8 000 BGN, we managed to get 105 000 BGN revenue and a ROAS of 10 in both channels.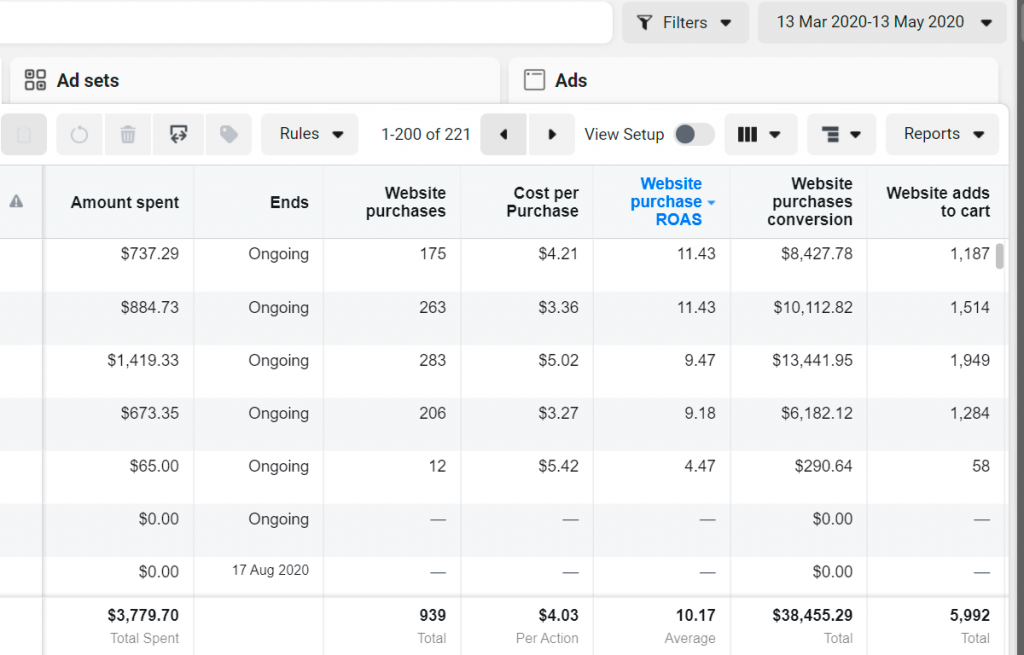 3. Online campaigns focused on the clients' new reality
We knew people were living in a new reality, and we had to adjust our messages accordingly. We had to understand how the crisis impacted our target audience and address it in our campaigns. For example, we knew they were worried about physical contact, so we emphasized how safe and secure our online delivery was; we knew they were afraid to spend too much on anything but essential commodities, so we made a special sale on some of the more expensive products; we knew they were spending much more time online, so we boosted our online communication, and we increased the frequency of posting on social media and sending newsletters; we knew they were worried so we made our tone of voice more positive and encouraging.
4. Keeping it fun, exciting and engaging
Naturally, the sales were the main focus, but we knew people had a lot more free time that they were spending on social media and, despite their worries, they wanted to have fun and find a source of courage online. We changed the content strategy and started posting more engaging, thought-provoking, and motivating content, and we tried to make them feel closer to the business. It resulted in greater engagement, created a closer link between the brand and its customers, and increased trust and brand awareness. This had an impact even after the end of the COVID-19 lockdown and is still positively influencing the company's online sales.